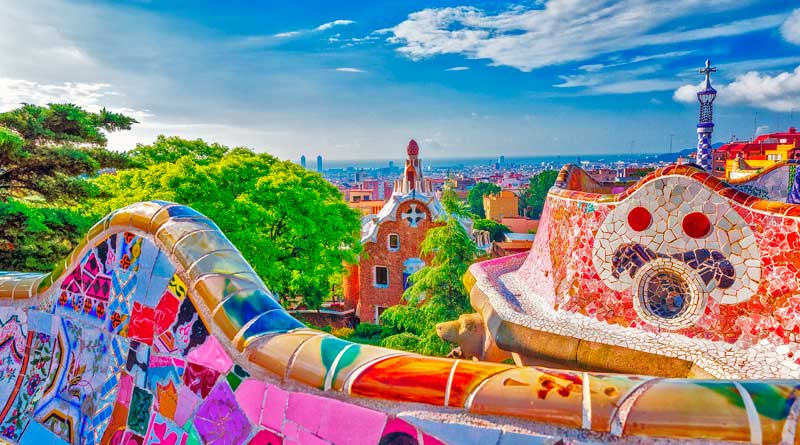 Gaudí buildings in Barcelona
Barcelona is a city that's got it all: culture, history, art, architecture, and so much more. The city is known for its modernist movement and the works of Antoni Gaudi, who was one of the most prolific architects in the world. He designed some of Barcelona's most famous buildings—and if you don't know what they are yet or where to find them, we're here to help!
So… Which Gaudí buildings and constructions are the most emblematic in Barcelona? The first surely won't surprise you, but what about the rest…?
Sagrada Familia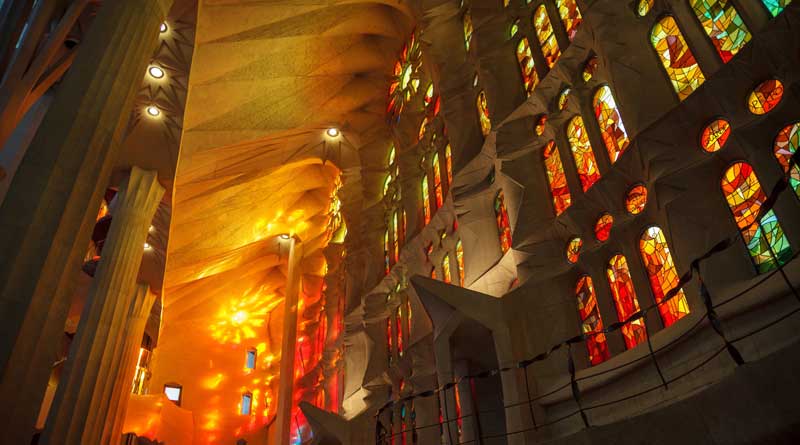 The Sagrada Familia is the most famous among Antoni Gaudí's best-known works. It's a massive cathedral that's still under construction. It's an incredible building with lots of details to look at and appreciate.
Started in 1882, the astonishing interior is now more or less complete (and clear of scaffolding), with work on the towers expected to be completed by 2026, coinciding with the centenary of the death of Gaudí.
Pretty mind-blowingly amazing all round. Shame it gets so many visitors!
To avoid the queues, we highly recommend you get your tickets to visit Sagrada Familia online for a set time for your visit. Get the official app to manage your tickets and enjoy the audioguide when you come along.
We liked: The view from the top (head for heights required)
📍 Address: Mallorca 401
🚇 Metro: Sagrada Familia (L2, L5)
🕑 Open: Apr to Sep, 09.00 to 20.00; Oct to Mar, 09.00 to 18.00
🎟 Admission: €26; or €36 if you want to go up the towers (and you do!)
Nearby, there's another amazing example of Modernista architecture, the Hospital Sant Pau (by architect Lluís Domènech i Montaner).
Casa Batlló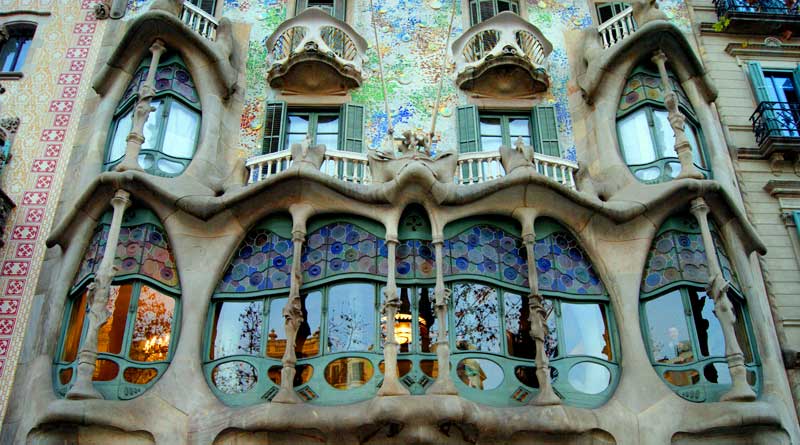 One of Gaudi's most famous houses, with the most unusual facade ever.
It's a beautiful building with some amazing architecture, including its original stone facade and wrought iron balconies. It's ore than likely that Dr. Seuss found inspiration in this work of Gaudi.
Built by Gaudi in 1905, it's often considered his best work and has been called "a triumph of organic architecture."
The Casa Batlló has a website just about worthy of one of Barcelona's best-known bits of architecture, with information on when you can visit, a potted history, the shop opening hours, plus information on how to go about hiring out some of its 2,500m2 for the office party, a snip at €11,500 for an evening (roof only), according to Metropolitan.
We liked: Online booking for priority access and a discount from the box office. Yay!
Not so hot: More queues!
📍 Address: Passeig de Gràcia 43
🚇 Metro: Passeig de Gràcia (L2, L3, L4)
🕑 Open: 365 days a year, 09.00 to 21.00
🎟 Admission: from €35
Casa Milà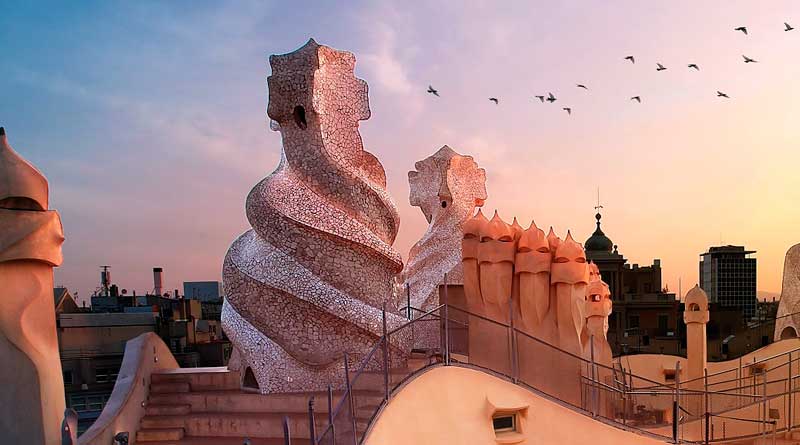 Another house by Gaudi where he took his inspiration from nature and incorporated it into his design. You can tell he had a lot of fun designing this one.
Casa Milà was designed as a vertical villa, so that each room has its own separate balcony (with a view!).
Supposedly without a straight line in it anywhere, the Casa Milà was built 1906–1912 and is also known as La Pedrera, or "The Stone Quarry", from the time of its construction, when piles of stone littered the street.
Make sure you go up on the roof, for its spectacular views of Barcelona and its amazing chimneys.
Note there are plenty of tours to choose from, including La Pedrera night experience and even an augmented reality virtual tour!
We liked: Some of the items inside (furniture etc), as well as the building itself. There's a lot more to Modernisme than just stone and brick!
📍 Address: Provença, 261-265
🚇 Metro: Diagonal (L3, L5)
🕑 Open: Mon to Sun, 09.00 to 18.30 (20.00 in summer)
🎟 Admission (including audio guide): General €25; Children 7-12: €12.50; Children 6 and under: free
Park Güell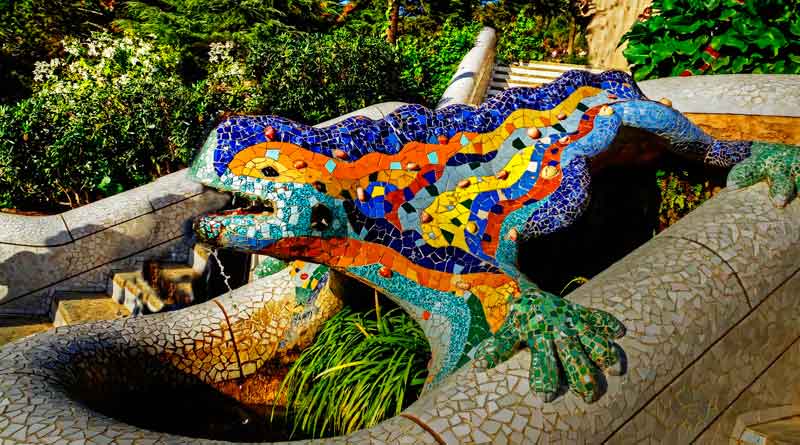 If you want to make sure to see some of Gaudi's best work in one place, Park Guell is your spot.
I can't remember where or when I read or heard that Park Güell is the greatest open-air museum in all Europe, but I have to totally agree.
The building of Gaudí's second most famous work started in 1900 and came to a halt for lack of funds in 1914. Originally designed to be a residential complex (never completed), its famous for the dragon that guards the gate and the colonnades (intended to be a market) under the esplanade — the one with the amazing trencadís benches.
Barcelona's Park Güell has been a World Heritage site since 1984.
It's full of tiled mosaics and curving stone paths that wind through lush greenery. It also has some great views of the city from up above.
The Park Güell is one of Barcelona's most visited monuments. We'd actually recommend going on a day when it rains, the moment it stops, which might mean it's a little less packed with tourists.
Note the Gaudí museum inside the park (a house he did not design), where he lived until a few months before getting run over and killed by a tram (by which time he was actually living inside the Sagrada Familia).
📍 Address: Carrer Olot
🚇 Metro: Lesseps or Vallcarca (L3)
🕑 Open: 9.30 to 19.30
🎟 Admission: starting at €10, online booking available
See also: Wikipedia Park Güell
Palau Güell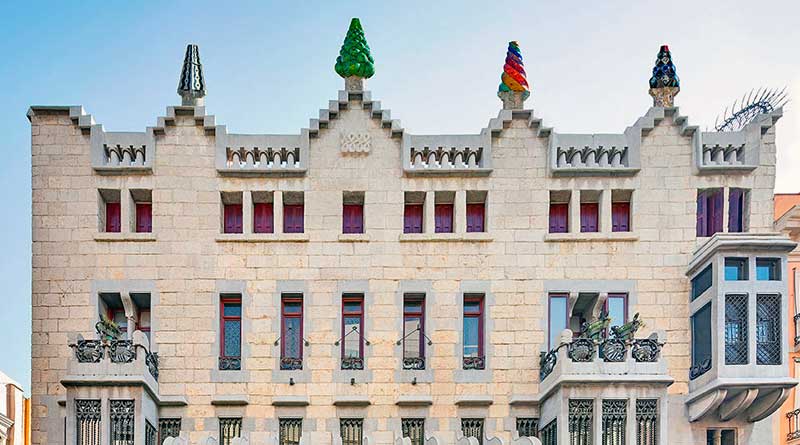 One of the few Modernista buildings in Barcelona not to be found in the Eixample district, the Palau Güell (1886-90) was built as a private houses for Gaudí's great patron, Eusebi Güell (1846-1918), who also gave his name to the Park Güell.
Güell didn't actually then spend much time there as they reckon his missus didn't like the new palace (!!!).
We definitely recommend visiting this one. Guided tours and exhibitions throughout the year.
📍 Address: Nou de la Rambla 3-5
🚇 Metro: Liceu (L3)
🕑 Open:
🎟 Admission: €12 online booking
Official Gaudí site
2002 was International Gaudí Year and this official site was built to celebrate the event.
On Gaudí (1852-1926), the most interesting sections are the biography and comprehensive timeline, the map of locations of all Gaudi's works in Barcelona.
Don't miss the chance to read the info on all works on its dedicated posts, not only the info is brilliant but the pictures are pretty awesome too.
We liked: Particularly, the photographs.
Not so hot: The navigation left us confused. Click on the map if you want to visit the individual works (Sagrada Familia, La Pedrera etc…); then use the icons top right.
Gaudí's UNESCO World Heritage sites
Did we forget to mention? Three of the sites listed here were declared in 1984 Cultural World Heritage by UNESCO because of their exceptional universal value.
Before you google it… can you tell us what they are?
Hint: if you have read the text above you already know one 😉
Discover more
There's a lot more to Barcelona's architecture than just Gaudí.
For more, see our page on Barcelona Architecture.
Interactive Gaudí
Close to the Park Güell, "an interactive and 4D journey through the creative universe of this genius of Modernist Architecture"… Gaudí Experience.