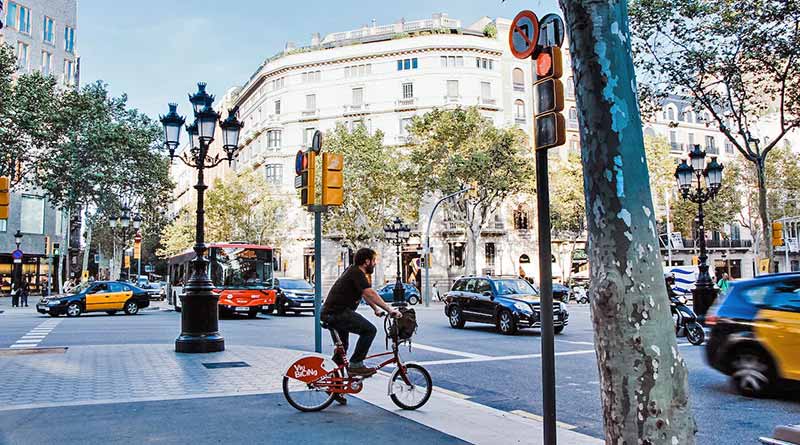 Barcelona is a beautiful city with a lot to offer. From stunning architecture to great food, there are lots of things that make Barcelona one of the most visited cities in Europe. But did you know that Barcelona is also one of the best cities for cycling?
The city has lots of bike lanes and parks where you can go for a ride. You can even rent or hire a bicycle if you don't want to bring your own.
Bicycling is an eco-friendly way to explore this great city!
How do you get around Barcelona?
In Barcelona, you can rent a bike from any of the major rental companies in town.
There are many bike rental shops and stations throughout Barcelona, but the most convenient ones are located at Plaça de Catalunya and Les Rambles. If you're planning on doing a lot of sightseeing or shopping during your stay, renting a bike will be your best option for getting around efficiently without having to deal with traffic or public transportation.
It will also save money on cab fares because they can be quite expensive in this city! However, if you want to visit some more remote locations outside of Barceloneta and El Born (like Pedralbes), then having your own wheels might make more sense than paying for a taxi or tour bus ticket every time you want to get out into nature!
Why bike in Barcelona?
It's easy to get around.
It's cheap.
It's fun and good for you, too! You can see the city from a different perspective while you pedal through the streets on your bike—and if you're feeling tired, there are plenty of places to stop and rest along the way. There are also lots of great places to eat or drink when you're done biking for the day, so it's a great way to spend an afternoon in Barcelona!
Where to bike in Barcelona
Barcelona is a city that, for bike riders, has something for everyone. There are many bike lanes and paths throughout the city, but also plenty of friendly streets and parks where you can ride without feeling too concerned about your safety. If you're up for it, there are also numerous mountains to explore by bicycle. Or if flatlands are more to your liking, Barcelona has those as well!
There's no question that Barcelona has an extensive network of bike lanes and paths, but it's important to remember that not all routes will be suitable for every type of rider—some may be too crowded or hilly; others may simply be too dangerous because they run along busy roads with lots of traffic. So what should you look out for?
Consider how much time you have when planning your route: A quick trip down La Rambla will certainly give you an idea what riding in Barcelona is like (and is worth doing at least once), but if this isn't enough time then consider taking one or two longer rides instead.
Bike-friendly lanes and parks
One of the most important things to remember when biking in Barcelona is that there are designated bike-friendly lanes. You will see segregated bike lanes or white lines separating them from the rest of traffic and will have no problem finding one. The only thing you need to know is that they usually run on the left side of roads, except for when they turn into pedestrian paths or crosswalks.
You also need to be aware that sometimes these bike paths aren't clearly marked and might be hard to spot if you're not paying attention! So make sure your eyes are peeled while navigating through this bustling city by bike!
Park your bike safely
After you're done with your ride, park it safely. When you get to the end of your journey, find a bike rack and lock it up. Don't leave your bike in the street or at a bus stop, because that's illegal. And don't leave it in front of businesses like bars or restaurants; let's try not to disturb.
Be ware, leave your bike chained to a lamp-post for a long time and it will get nicked, possibly piece by piece.
Buy, hire or rent a bicycle in Barcelona
There are many bike rental companies in Barcelona, and they can be found at several locations throughout the city. Rental prices from €5 per day (the price depends on the size of the bicycle), but if you're staying for longer than a week, it may be cheaper to buy a bike outright.
Some locations offer electric bikes as well; these tend to cost more than regular bicycles but also have some additional features that make them more useful for getting around town. Barcelona is not San Francisco, but there are lots of hills too!
If you're planning on renting a bike, be sure to ask about whether or not helmets are included in your rental fee—they usually aren't!
Recommended bike shops in Barcelona
Probike
Probike started out in 1989 in a miniscule shop with their first batch of bikes stored in the back of a van on the street, but has become one of the best bike shops in Barcelona, selling mostly mountain bikes. You can probably get a bike cheaper in Barcelona if you punt around, but the customer service is absolutely unmatched.
Probike also organises (among other rides) a superb TransCatalunya ride, bringing you (off-road) 190km down from La Molina in the Pyrenees to the top of Tibidabo.
👍 We liked: two-story shop and bike lane inside
📍 Address: Viladomat 310
🚇 Metro: Hospital Clínic (L5)
🕑 Open: Monday to Saturday 10.00 to 20.30
EspaiBici
At the bike shop Espaibici they specialise in city and folding bikes, including Bromptons, and genuinely believe that the bike makes for a better world.
A folding bike maybe your answer to the problem of what to do with a bike in Barcelona if you believe that too and want to use it as a means of transport.
A Brompton (the real McCoy of folding bikes) doesn't come cheap but it's a great way to get around a marvellous city for cyclists.
👍 We liked: The excellent customer service
📍 Address: Bruc 63
🚇 Metro: Girona (L4)
🕑 Open: Tuesday to Saturday 10.00 to 14.00 and 16.00 20.00
Bicycle sharing programmes in Barcelona
Bicing is the city bike sharing service in Barcelona. It's available in the whole of Barcelona, and you can use a credit card or your mobile phone to rent a bicycle for 1, 2 or 3 hours.
If you don't have time to go out on a longer ride, check out El Corte Inglés on Plaça Catalunya. They have an excellent restaurant there called Café de l'Hotel that serves great local dishes with an international twist.
Bicing – the city bike sharing service
Bicing is a public bike sharing system in Barcelona. The city council runs it and has more than 500 stations and 7,000 bikes available to use (according to the official Bicing website)
The Bicing service is highly appreciated and used by the locals. Bicing works 24 hours every day of the year.
City rentals and tours of Barcelona by bicycle
A bike tour is a great way to explore Barcelona. On a bike tour, you can see the city in a different way and learn more about it, too.
These tours are good for people who want to get out of their comfort zones and see things they wouldn't normally experience on foot or by car. You'll be able to stop whenever you want, get off your bike and take pictures or talk with locals (or even just sit in a park!).
If you're interested in going on one of these tours, I recommend looking at TripAdvisor reviews before deciding which one suits your needs best.
Bicycling is a fun, easy and eco-friendly way to get around Barcelona
Barcelona has almost 300km of bicycle lanes that stretch from one end of town to the other, but there are also plenty of smaller routes and throughways for cyclists to enjoy on their bikes. But bikes are allowed to circulate throughout the city, you just need to be careful, of course!
Biking is one of the most eco-friendly ways to get around Barcelona because it requires no fuel or emissions, meaning less pollution in our air quality!
Conclusion
The city of Barcelona is set up for both locals and tourists alike to enjoy this fabulous mode of transportation. When you're looking for the best way to explore the city, consider biking first!
Biking around the city is a great way to get around, but you have to be careful about where you ride your bike—and when! If you're not careful about obeying traffic signals or laws, you could end up injured or worse.
Bike safety tips
Riding a bike safely in a city like Barcelona is pretty much a matter of common sense. Do these things, and you'll get there safely (a couple of scares are par for the course!):
Occupy your lane: don't ride right beside the kerb or get too close to parked cars
Ride fast if you're on the road
Keep your distance in moving traffic
Don't jump red lights
Never get right behind a moving vehicle you can't see over the top of
Wear a helmet and don't listen to music while cycling
Don't ride on the pavements (to avoid collisions with pedestrians)
Pay extra attention when using cycle lanes: pedestrians (especially dog-walkers) and cars turning carelessly across them make them almost as dangerous as the roads!
Not getting it nicked
DON'T leave a bike in the street unattended
DON'T leave a decent bike in the street even if you think it's safely padlocked