Accio
Acció is "a global organisation devoted to promote Catalan business", with a variety of activities, including trade fairs, "aimed to connect Catalan companies with international ones, in order to foster business cooperation", with a network of offices in more than 80 countries.
The site reckons that Catalan exports reached a record levels in 2012, saw 5% growth and were even better than pre-crisis figures (not something that seems to have trickled down to your average Barcelona citizen!).
If you are looking to do business or invest in Catalonia, a site worth checking out.
Barcelona Chamber of Commerce
The Barcelona Chamber of Commerce describes itself as "one of the most relevant institutions in Catalan social and economic circles". It says Barcelona is Southern Europe's business capital, "the driving force of Southern Europe" (we love saying that kind of thing here).
You want to set yourself up in business in Barcelona? Worth checking out.
Barcelona Activa
Barcelona Activa says that it is (deep breath) "a portal of contents and on-line services for entrepreneurs, who host a virtual community of businesses who can interact between them with the objective of doing collaborative networks for cooperation and innovation".
You know about how to set up a business, this could be your site. It starts with a test of your potential as an entrepreneur (we'll skip over the results we got) and goes into such things as what legal forms your business can take, what bureaucratic hoops you need to jump through in order to get it off the ground, and so on. Neat!
We liked "Empresario individual, Capital mínimo (none)"…? That sounds like me!
Not so hot "Responsibilidades, Ilimitada…" Oh, that doesn't sound so good!
Barcelona Stock Exchange
The Barcelona Stock Exchange site has the sort of extensive financial and market information you would expect, I suppose. You're interested? Go check it out. You're not? Me neither.
We liked The English-Spanish-Catalan finance dictionary…
Not so hot … this is an old school website… meaning you'd better don't browse it on your phone.
World Trade Center Barcelona
Designed by architects Pei, Coob, Fred & Partners, who also did the "glass pyramid" outside the Louvre, the eight-storey Barcelona World Trade Center stands in the middle of the port and offers a variety of services, spaces and experiences to businesses.
You are looking for a spectacular setting for your convention – or for your Barcelona office – the WTC business hub could be your place.
More Business
Barcelona Observatory compares Barcelona against other cities around the world.

Download last year report for a 116 pages pdf assessing over 30 indicators organised into six fields (business, know-how, tourism, sustainability and quality of life, prices and costs, and the labour market and training).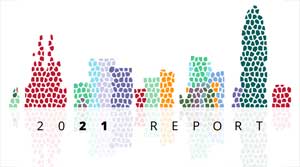 On our blog
The biggest event in the mobile technology industry as the MWC Barcelona 2023 is just around the corner. The latest innovations, trends, and advancements in mobile technology in this must-attend event.

---

Ever heard about tourist taxes? It's a controversial topic when it comes to vacation destinations. Barcelona's tourist tax is a

---

Barcelona's most important annual meeting of the expat community and all those interested in connecting with foreign professionals.

---