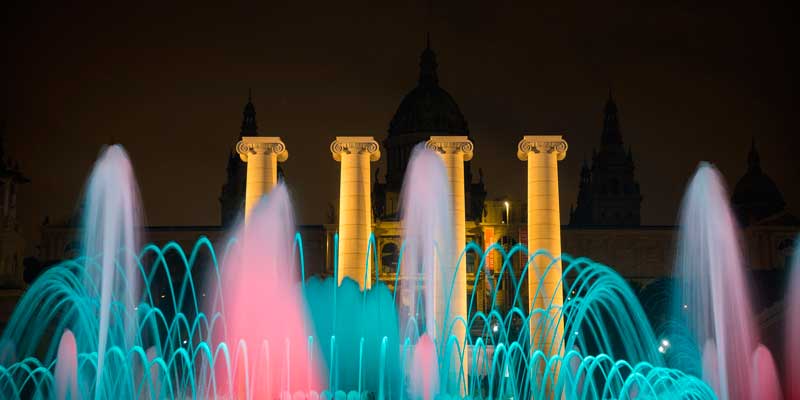 Are you going to be in Barcelona for a short time?
In that case there are things that you have to see no matter what. If you are more interested in visiting places of interest because of their atmosphere, history or just for fun, these are essential.
But feel free to check out our Gaudi, architecture and art pages if that's what you're into.
But now… What places are those that I cannot miss?
Boqueria Market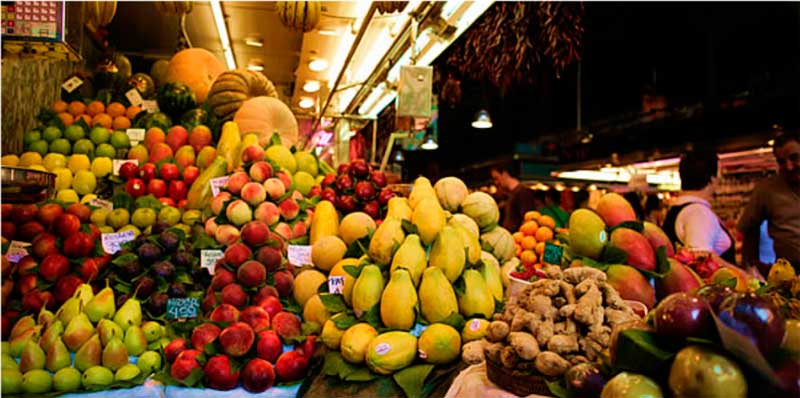 The Boqueria market is one of Barcelona's many fascinating places in which just to mooch about. Of course, if you want to do some serious cooking, it's also the place to go look for that missing ingredient. For exotic foodstuffs, one of the best places to look.
👍 We liked: The idea of a market having its own website (a nice one indeed).
👎 Not so hot: if it's not in the Boqueria…
📍 Address: Ramblas 91
🚇 Metro: Liceu (L3)
🕑 Open: Mon-Sat 08.00 to 20.00
🎟 Admission: free
Barcelona Cathedral
Begun in 1298, the cathedral is prime of example of Catalan Gothic architecture, though inevitably not as spectacular as the Sagrada Familia.
The site has interesting sections on the cathedral's architecture, as well as a section on some of its (and Barcelona's!) curious traditions.
The cathedral itself is worth a visit if you are here in Barcelona – as is getting to know the area of quiet backstreets around it (see picture, left).
👍 We liked: The statue of Saint George (patron saint of Catalonia) in the cloister.
📍 Address: Pla de la Seu
🚇 Metro: Jaume I (L4)
🕑 Open: Monday to Friday 09.30-18.30; Saturday 9:30-17.15; Sunday 14:00-17:00
🎟 Admission: from €7 (to a cathedral!, though it does include a visit to the rooftops); free after 17.15
More on Barcelona churches
If you want to know more check out Barcelona cathedral on wikipedia
There are two other wonderful Catalan Gothic churches in Barcelona: Santa Maria del Pi (literally, "of the pine tree") and the particularly lovely Santa Maria del Mar, which is the focus of the best selling novel by Ildefonso Falcones, La catedral del mar.
Liceu Opera House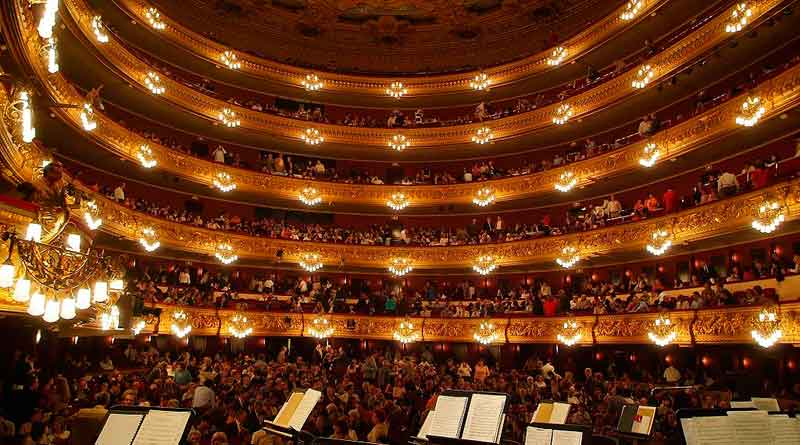 With room for an audience of nearly 2,300, Barcelona's Gran Teatre del Liceu Operaaaa (sorry, typo!) House is one of the largest opera auditoriums in the world.
The site gives a reasonable impression of what is a pretty impressive place, grandly rebuilt following the 1994 fire (which conveniently allowed them to make it even bigger). A performance at the Liceu (check the calendar) is on your must-do list if you're coming to Barcelona and are at all a culture freak.
👎 Not so hot: The really cheap seats with no (!!) view
📍 Address: Ramblas 51-59
🚇 Metro: Liceu (L3)
Magic fountains of Montjuic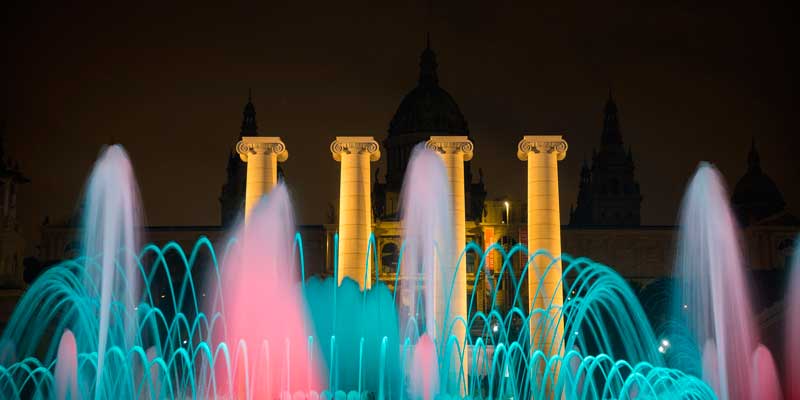 Designed for the Universal Exhibition of 1929, the Magic Fountains of Montjuic (just up from the Plaza España), is a light, water and music extravagance which you'll either love or think a bit naff. Choose "videos" on the site to make up you mind before traipsing all the way to Montjuich.
👍 We liked: Cooling off in the spray
👎 Not so hot: What do you mean I can't jump in, Officer!
📍 Address: Plaça Carles Buïgas
🚇 Metro: Espanya (L3)
🕑 Show times: May to Sept, 21.00 to 23.20; Oct to Apr, 19.00 to 21.00
🎟 Admission: free
Pueblo Español
Built in 1929 for the occasion of the Barcelona International Exhibition, the Poble Espanyol (or Spanish village) brings together some actually quite attractive traditional architecture from all over Spain and stuffs it full of handicraft and souvenir shops and packs the place with concerts and bars that somehow do not seem so tacky on hot summer nights.
Nearby, the CaixaForum art gallery is well worth a visit.
👍 We liked: The village empty, on a cold but sunny winter day
👎 Not so hot: We would have liked a map on the site showing which buildings represent which regions
📍 Address: Avenida Marquès de Comillas
🚇 Metro: Espanya (L3)
🕑 Open: Monday 10.00 to 20.00; Tuesday to Sunday 10.00 to 24.00
🎟 Admission: from €10
More to see in Barcelona
Fancy some cool architecture? Check our Gaudí monuments page…
And do make sure you see the rest of Barcelona's architecture too!