Kike Meana & Jaime Valero figurative art exhibition
Up until December 11 at MEAM (European Museum of Modern Art), you can enjoy the exhibition "One language, two accents. Portrait of a long friendship" by two great spanish artists, Kike Meana and Jaime Valero, in which we can see the different works created by both authors.
The exhibition honors the essence of their relationship, both artists speak the same language, that of art, but with two completely different views, thus broadening the viewer's vision towards current figurative art.
Kike Meana's vision of the world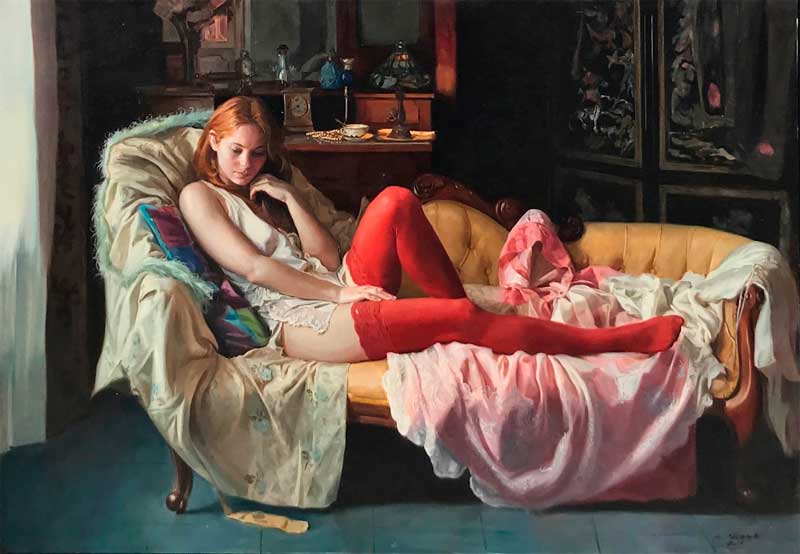 Kike Meana (Madrid, 1969) exposes several series. Automata is an hypnotic, dehumanized and devastating vision of the world in fresh brushstrokes and charcoal. We can also find Urban Landscape showcasing the magic of Havana, Madrid or London in their special and unique environments, approaching them through their most intimate corners.
More figurative art, daily life and portraits to be found in the rest of the series: Portrait, Conventional Landscape, Figure, Metamorphosis, Drawing, Sketches, Slaughterhouse, and Subject & Object.
Jaime Valero's emotional and oversized portraits

On the other hand, Jaime Valero (Madrid, 1967) adapts the currents of conceptual realism to a superlative language. He presents El agua entra en escena, La intimidad y el agua, El agua en el retrato – Los grandes formatos, Trabajos más recientes, Hacia la Ruptura, Formato menor, acuarelas y apuntes and Investigación y búsqueda.
A series of works (lots of them water-themed paintings) rich in colour, tone, nuances and messages through an extensive color palette, and a wide range of pictorial resources. His brushstrokes create oversized portraits, thus capturing their emotions, their features and gestures that reveal their feelings.
Exhibitions tickets and more at the MEMA
Dates: Until January 8, 2023
Opening hours: Tuesday to Sunday from 11:00 to 19:00
Where: MEAM European Museum of Modern Art
Price: €11
---