Spending Christmas in Barcelona is a great opportunity to get to know part of Spanish culture and enjoy the happiest time of the year surrounded by Christmas lights and magic.
Here you will find the best places and activities while in Barcelona during Christmas. If you have come with children you cannot miss the Xmas markets.
Christmas street lights
On Thursday, November 24, you will be able to enjoy the lighting of Christmas lights in Barcelona, ​​it will be at 6:30 p.m. and they will be lit every day until January 6 (Three Kings Day).
In this holyday season, Christmas lights can be enjoyed in almost every corner of the city. But some of them remain unknown to most. There are more light shows than the classic LED panels on the main avenues and shopping streets.
Els Llums de Sant Pau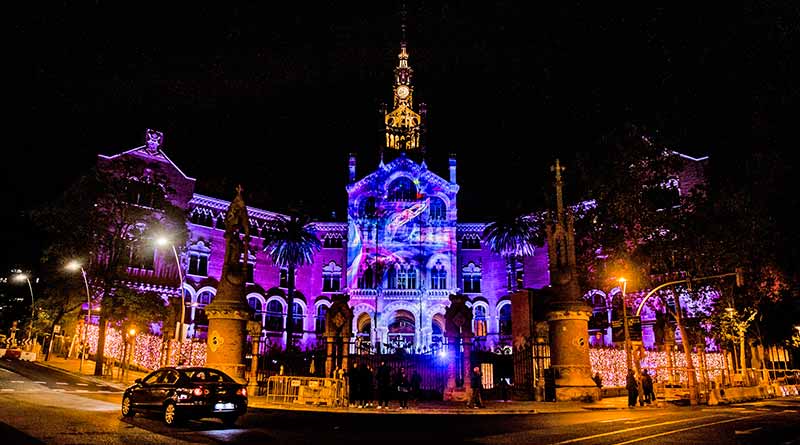 This Christmas the second edition of Els Llums de Sant Pau (the lights of Sant Pau) arrives in Barcelona.
Inspired by the mysteries of the cosmos such as galaxies, stars and planets, you can enjoy the exhibition The Universe of Light in the modernist Sant Pau venue from €10.
At least come and enjoy the light show on the façade before visiting the Sagrada Familia Christmas market (see below), just a short walk away on Avinguda Gaudí.
📍 Where: Sant Antoni Maria Claret 167
🚇 Metro: Hospital Sant Pau (L5)
🕑 When: from November 22, 2022 to January 15, 2023 between 5:30 p.m. and 11:00 p.m. (last session starts at 9:30 p.m.). Closed on December 24 and 31 and January 5
🎟 Admission: from €10
➕ All the info and tickets at Els llums de Sant Pau website
Mar de Llums de Nadal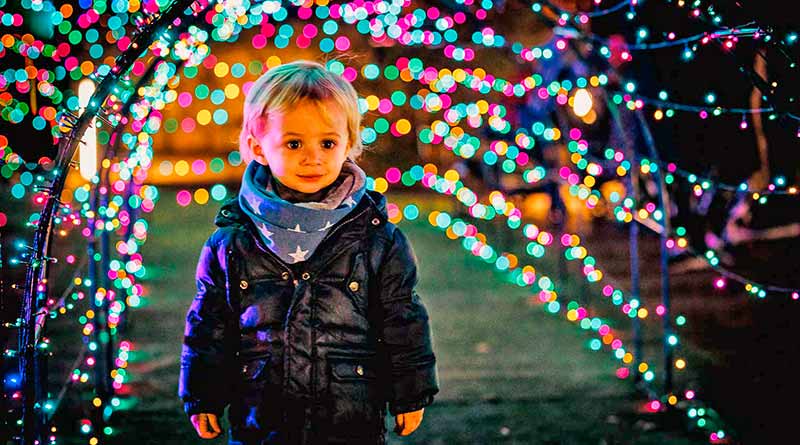 The joy of christmas with lights, live music and decorations inspired by the sea to enjoy a great familiar show in a chrismas afternoon.
The old Royal Shipyards of Barcelona, ​​declared a Historic-Artistic Heritage in 1976, will be transformed into an immersive space to enjoy this Christmas activity.
📍 Where: Maritime Museum – Avinguda Drassanes 1
🚇 Metro: Drassanes (L3)
🕑 When: from December 1, 2022 to January 8, 2023. From 18:00 to 22:00 (last access at 21:30). Closed on December 24 and 31 and January 5
🎟 Admission: adults from €10, €8 for kids under 16 and adults over 65
➕ All the info and tickets at Mar de Llums website
Barcelona Christmas markets
If you want to soak up the festive atmosphere that Barcelona lives these days, you will want to visit the Christmas markets. You will be able to see all kinds of Christmas decorations, ornaments and some typical Catalan traditions such as the tió and the manger figure called the caganer.
Santa Llúcia Xmas market
The Fira de Santa Llúcia is a temporary christmas market set up in front of and around the Barcelona cathedral with around 300 stalls and stores selling Christmas trees and figures for the manger, the crib, as well as countless ideas for Christmas presents.
You can visit the Santa Lucía Christmas market for free from November 25 until December 23.
📍 Where: Avinguda de la Catedral
🚇 Metro: Urquinaona (L1), Jaume I (L4)
🕑 When: from November 25 to December 23, 2022. From 10:00 to 21:00
🎟 Admission: Free
Sagrada Familia Christmas Fair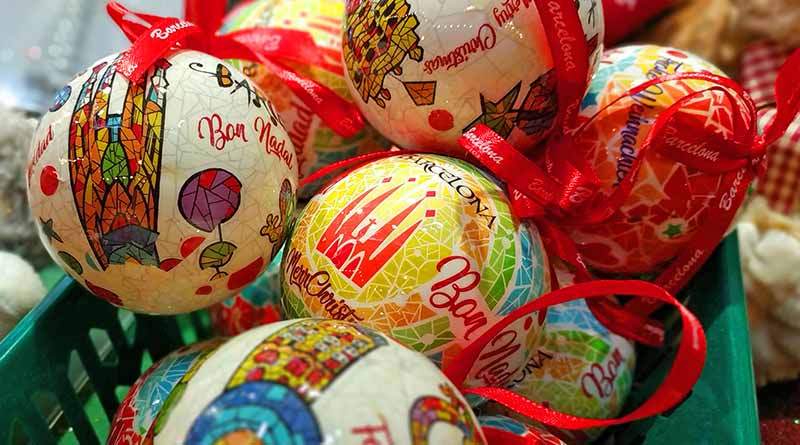 This is the most traditional Christmas market in the Eixample district.
You'll find all kinds of xmas trees and decorations along with typical festive sweet treats (torrons), cheeses, cured meats and of course churros with chocolate in all the Christmas stalls throughout the Plaza de la Sagrada Familia.
Handcrafted gifts, jewellery, clothes and nativity scenes are also available to make good presents this Christmas.
📍 Where: Plaça de la Sagrada Família
🚇 Metro: Sagrada Familia (L5)
🕑 When: from November 26 to December 23, 2022. From 10:00 to 21:00, saturdays until 22:00
🎟 Admission: Free
Christmas at the port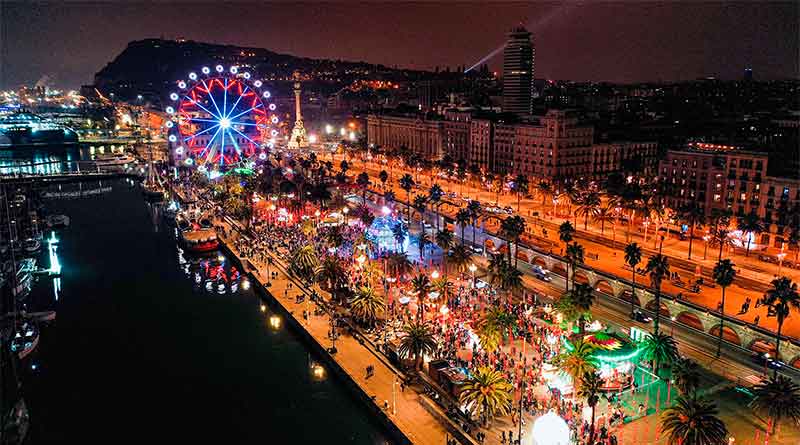 The third edition of 'Nadal al Port' has become one of the reference activities in the city, consolidating the Port of Barcelona as one of the meeting points of the Christmas route.
Located in Moll de la Fusta, an attractive space, surrounded by boats, the color and smell of the sea.
Moll de la Fusta has become a safe space in which to enjoy these holidays by the sea, with lighting, gastronomy, Christmas parades and children's activities.
Great to spend Chritmas with kids in Barcelona as they can ride traditional attractions such as the old carousel, the small train and the traditional 65 meter high ferris wheel. And don't forget the sustainable and ecological ice rink of 400m2 where you can skate in family!
More than 85,000 LED lights will make up this year's Christmas lighting at Moll de la Fusta. A spectacular overhead lighting along the pier which and the giant Christmas ball (which you can walk in!) are the top elements of this edition. Plus you can enjoy a light and music show every night.
📍 Where: Moll de la Fusta
🚇 Metro: Drassanes (L3), Barcelona (L4)
🕑 When: from December 5 to January 6. From 11:00 to 22:30
🎟 Admission: Free
➕ All the info at Nadal al Port website
Catalan Christmas traditions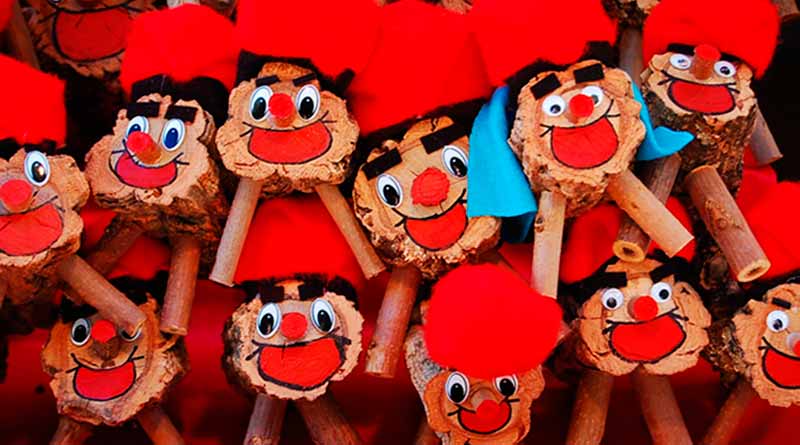 The Christmas tree is not really Spanish, we've only really had them since the 60s. What's traditional is the crib and, here in Catalonia, the tió, also known as cagatió.
The tió is a log, with a face painted on it, wearing a barretina, the red hat of traditional peasant costume. On Christmas Day, it's hidden under a blanket and the kids beat it with a stick, singing a rather rude little song that asks it to – if you'll excuse the expression – "shit" presents (therefore cagatió). The scatological thing is in fact a serious symbol of fertility for the next year.
That's also the explanation behind another of the peculiar local traditions. The caganer is a figure that adorns a corner of the cribs in everyone's home. Traditionally, the caganer is dressed in traditional costume, though we saw others dressed as culés (Barça fans, that is), bishops, Civil Guards, Spain's president and literally countless others. Yes, the caganer has his trousers (traditional or otherwise) down and is taking a pooh. We even saw caganers that were castellers – the human towers that are another wonderful tradition here.
There are some wonderful Spanish traditions that it's nice to see surviving. One is that we have mistletoe (muérdago) and a ponsetia in the house – but they have to be given to you as a present. They have mistletoe in Germany, too, and like in England, you have to catch a handsome stranger standing under it. Do we do that here in Spain? Well, sometimes, but only because we've seen it happen in films.
Another wonderful tradition is the making of the crib – something which they are busy doing and displaying in schools at this time of year. And in homes, the kids like to have a big one so that they can move the three kings slowly closer and closer to the Baby Jesus, to arrive on January 6th – bringing the presents, as in Spain it's traditionally the kings (the Reyes Magos), not Father Christmas (or Papa Noel), that bring them.
Photo credit: Els llums de Sant Pau, Mar de llums de nadal, Nadal al Port